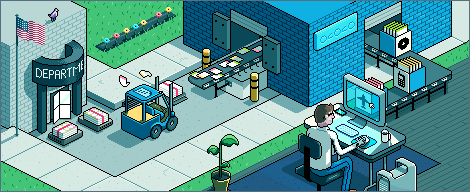 Regulation Room is designed and operated by the Cornell eRulemaking Initiative (CeRI) and hosted by the Legal Information Institute (LII). The site is a pilot project that provides an online environment for people and groups to learn about, discuss, and react to selected rules(regulations) proposed by federal agencies. It expands the types of public input available to agencies in the rulemaking process, while serving as a teaching and research platform.
CeRI is a multidisciplinary group of faculty and students, based at Cornell University. We work with federal agencies to discover the best ways to use Web 2.0 and other technologies to improve public understanding of, and participation in, rulemaking. LII, based at Cornell Law School, has been providing legal information at no charge to the public since 1992, and is the most linked-to web resource in the field of law.
Regulation Room was chosen by the Department of Transportation (DOT) as its open-government flagship initiative and received a Leading Practices Award by the White House after a government-wide review of such projects.
CeRI cooperates with various federal agencies to select and present the proposed rules that are available in Regulation Room. However, this is not a federal government site. Discussions on Regulation Room are moderated by CeRI students and faculty or other nongovernmental researchers collaborating with CeRI. The federal agencies whose rules are offered here collaborate in this research, in order to learn about the most effective Web 2.0 strategies for increasing public understanding and participation during rulemaking, but all content and operation are the sole responsibility of CeRI.
Regulation Room is a work in progess. Services and applications will be added in phases and may be modified with experience. This is an overview of our current plan:
Alert & Engage
Social networking services and other online and conventional outreach strategies will be used to alert individuals and groups who may have an interest in proposed rules. Our focus will be on reaching people and groups who might not learn about the rulemaking through traditional channels, and providing them enough information about the rule and the process to encourage them to participate.
Educate & Inform
Materials about rulemaking and effective participation will be available, strucutured to allow people to learn about the process in as much detail as they feel they need. For each specific rule, summaries of the important issues and the agency's reasoning, as well as links to relevant primary and secondary materials, will make the legal and factual bases of the proposal more accessible.
A second aspect of Education will be to train students in online facilitation of discussion, as well as in outreach strategies for mobilizing previously under-represented stakeholders. The E-Government Clinic exposes students to different disciplinary perspectives on online democratic participation (e.g., law students get an introduction into communications theory and natural language processing) while allowing them to experience many aspects of the project in a hands-on way. A goal of the Law School part of the clinic is to produce young lawyers with basic knowledge of Web 2,0 technologies and a framework for thinking about the ways the Internet might improve public interaction with government policymakers.
Facilitate Reaction & Informed Discussion
A moderated blog will facilitate public discussion of the major policy issues of the rule. Users will be able to target their comments to particular sections of the agency's proposal and reasoning, and react specifically to those sections. Comment threading will enable users to reply to the comments of others, to specific paragraphs, as well as on the issue overview post. Moderators will mentor effective commenting by pointing users to other information, asking questions, and encouraging cross-discussion. An innovative Moderator Interface (not publicly visible) allows moderators to manage, mentor and collect data about comments as they moderate.
Encourage Comment Aggregation & Consensus-building
Reaction and discussion will lead into a collaboration phase during which users can participate in drafting and responding to other users comments. Moderators trained in group facilitation will actively assist this phase.
Harness Technology to Manage Information
Regulation Room is part of ongoing CeRI research into the use of natural language processing and other information management techniques in rulemaking. Research will focus on experimenting with recommender systems to stimulate discussion and on developing a automated Comment Support Interface that mentors more effective commenting as users are writing.